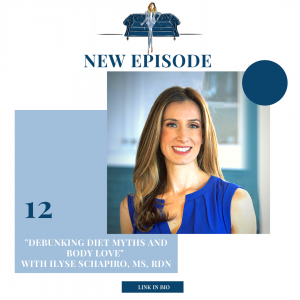 I was a guest on the Podcast Thoughts from the Couch where I debunked myths about trendy diets. We discuss better ways to achieve weight loss and/or weight gain and how to develop love for our bodies. Justine and I collaborate in identifying how harmful certain fad diets can be on our physical and mental health. I also shared my philosophy on sustainable and alternative options to living a healthier life and building a positive relationship with food.
This episodes dives into:
"Own Your Wellness" workshops with Ilyse and Justine.
Discussion on current fad diets and whether they are a good choice for you.
How simplicity can be the answer.
The importance of seeking advice from credentialed professionals.
Focusing on whole, fresh food instead of processed foods.
How diets take up too much head space and the detriment this can play in making personal changes.
The significance of individualized meal plans.
The importance of patience and slowing down for weight loss.
Ilyse's tips for negative body image.
Negative effects of social media on our body image.
How to address postpartum body changes.
You can listen to the podcast here:
https://podcasts.apple.com/us/podcast/debunking-diet-myths-body-love-ilyse-schapiro-ms-rdn/id1523221552?i=1000499917957