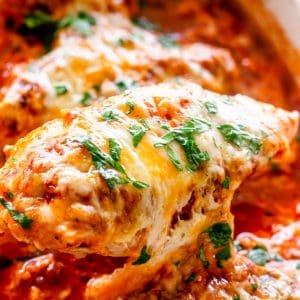 Looking for a simple recipe with a few ingredients? Check out this Salsa Chicken Recipe from www.easyfamilyrecipes.com
Ingredients
2 lbs Chicken Breast boneless, skinless thin cutlets
1 packet low sodium taco seasoning OR 2 Tbsp homemade taco seasoning
1½ cups Salsa (thick preferred)
¾ cup sharp cheddar cheese shredded
Toppings (optional)
Guacamole
Sour cream
Chopped cilantro
Diced jalapeno
Instructions
Place the chicken breast in the bottom of a large baking dish.
Sprinkle the taco seasoning evenly over the chicken.
Top with with salsa and cheese.
Bake at 375˚F for 25-35 minutes or until chicken is cooked through (165˚F internal temp.)
Recipe Notes:
Use thin chicken chicken breasts, or cut them to half the thickness. Alternatively, the chicken can be cut into chunks, or chicken tenderloins can be used.
Freezer Friendly
This recipe can be frozen before or after cooking.
When freezing before cooking, the meal will last 3 months in the freezer.
When freezing after cooking the Salsa Chicken is best used in 1 month.