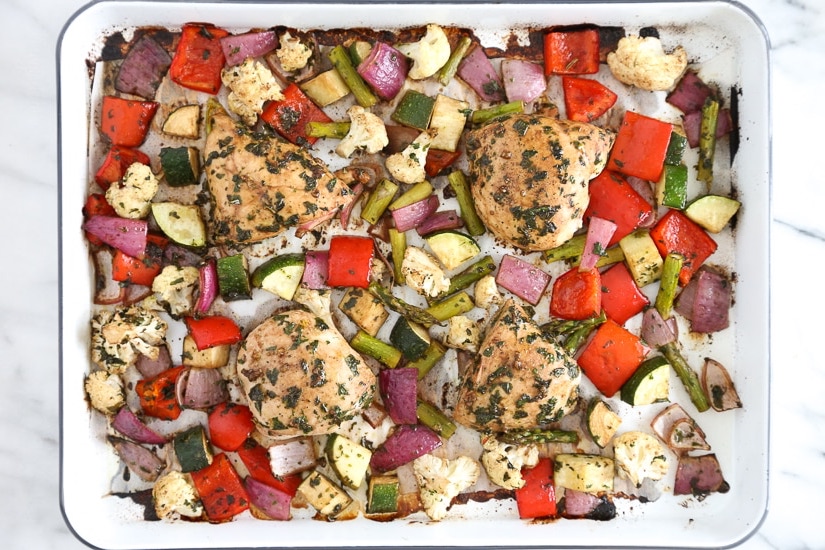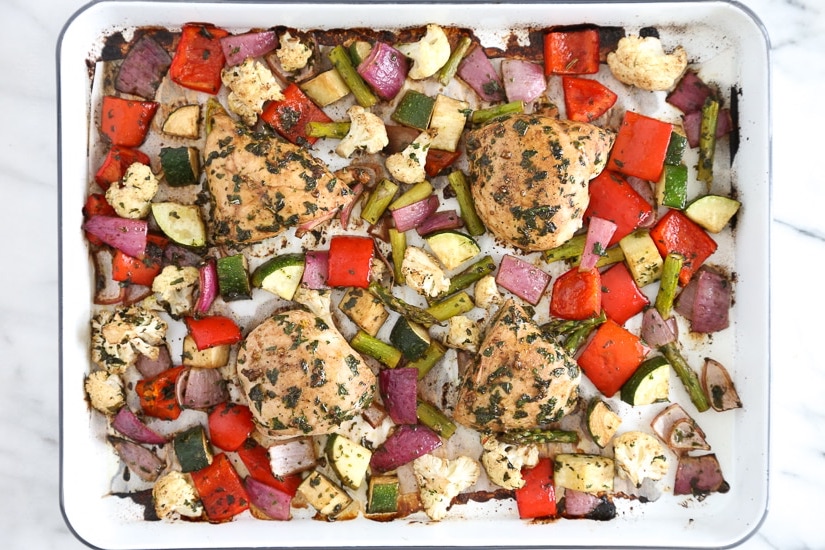 INGREDIENTS:
Chicken
½ teaspoon smoky paprika (or regular paprika)
½ teaspoon sea salt
¼ teaspoon ground black pepper
½ teaspoon dried rosemary
1½ pounds boneless, skinless chicken breasts, quartered
Veggies
1 large red bell pepper, cored and cut into 1-inch pieces
1 medium zucchini, cut into 1-inch discs, then sliced in half
1 red onion, cut into 1-inch pieces, layers separated
2 cups cauliflower florets
1 tablespoon extra-virgin olive oil
1 teaspoon dried rosemary
3 cloves garlic minced (or ¾ teaspoon garlic powder)
½ teaspoon salt
½ teaspoon ground black pepper
PREPARATION:
Preheat oven to 450˚. Coat a large baking sheet pan with olive oil spray.
Mix chicken seasonings and sprinkle evenly over chicken. Set aside.
In a large bowl, toss all the vegetables with olive oil and mix well to coat evenly. Add rosemary, garlic, salt, garlic and pepper. Mix again to thoroughly coat and combine.
Spread vegetables out on the baking sheet. Nestle the seasoned chicken in with the vegetables and roast for 20 to 25 minutes until chicken is tender and cooked through.