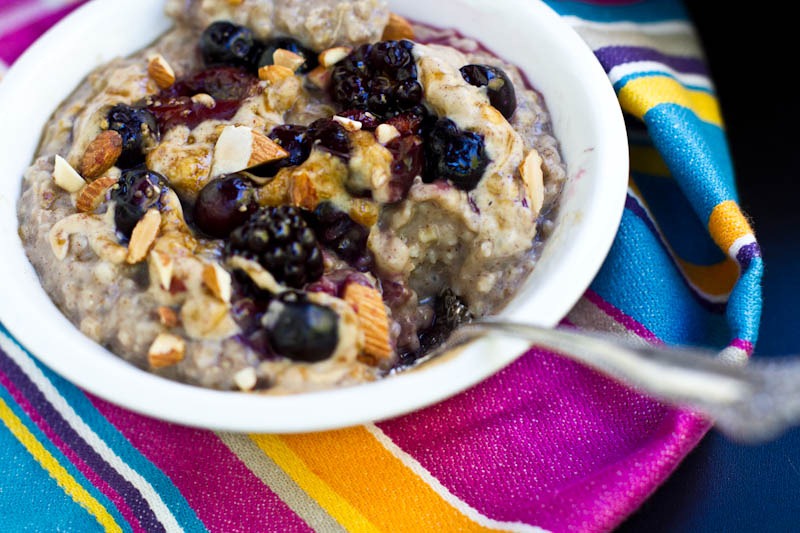 Breakfast
Breakfast is easy to forget about at school when rushing for those 8ams or scrambling in the morning before an exam. However, starting the day off with a wholesome breakfast gets your brain flowing and ready to take on the day.
Great ideas for breakfast are:
Eggs

Eggs are pretty quick and can be made in a variety of ways to avoid boredom

Scrambled, omelet, or fried, you can eat them quick with whole wheat toast or an English muffin, add throw in some other veggies for extra fullness

Oatmeal

Ready in minutes and filling! Add fruit and/or almond butter for extra fullness

Fruit

Grab a piece of fruit when in a rush or if you're not super hungry in the morning! Your brain will thank you for waking it up with some good sugars
Lunch
Lunch is an easy meal to pack on the go and bring throughout the day so that if you're caught in between classes, you have a healthy alternative instead of buying out. Lunch ideas are:
Salad

Salads are really easy to pack in a container and bring to go! Throw in some other fruits, veggies and nuts and it's a quick, satisfying meal

Sandwiches or wraps

Like salads, sandwiches are simple to throw in your bag and eat whenever you can
Dinner
Dinner is definitely the trickiest part about meal planning, because at this point in the day you're exhausted, hungry, and are about to start getting your work done. Meal prepping and cooking for the week on Sunday is a great way to stay ahead and keep healthy throughout busy days.
Dinner ideas are:
Lean meat or fish with vegetables

There are so many options for dinner to avoid being repetitive

Chicken, turkey, salmon, tuna, etc.

SO many different vegetables to mix it up with weekly

Add a starch also for fullness like quinoa or brown rice

(If didn't have for breakfast) eggs or an omelet with toast
Back to School Shopping Ideas
BREAKFAST:
Eggs

Oatmeal

Almond butter

Fruit
FRUIT:
Apples

Bananas

Oranges

Grapes

Berries (blueberry, raspberry, blackberry)
VEGETABLES:
Lettuce/ spinach

Broccoli

Sweet potatoes

Tomatoes

Green beans

Peppers

Baby carrots
SNACKS:
Nuts

Hummus

Baby carrots

Fruit

Popcorn (lower calorie, no butter added)
OTHER:
Brown rice

Quinoa

Beans

Chicken

Turkey

Salmon

Tuna

Whole wheat pasta